The long awaited Batteries Regulation has been revealed earlier this summer, and went into effect 17 August. The regulation applies to all economic operators of every type of battery placed within the EU market. Economic operators is defined as all manufacturers, producers, importers, and distributors. The regulation applies to all batteries in the EU, regardless of the origin of the battery or its materials, including portable batteries, electric vehicle batteries, and LMT (Light means of transport) batteries.
Raw materials and recycling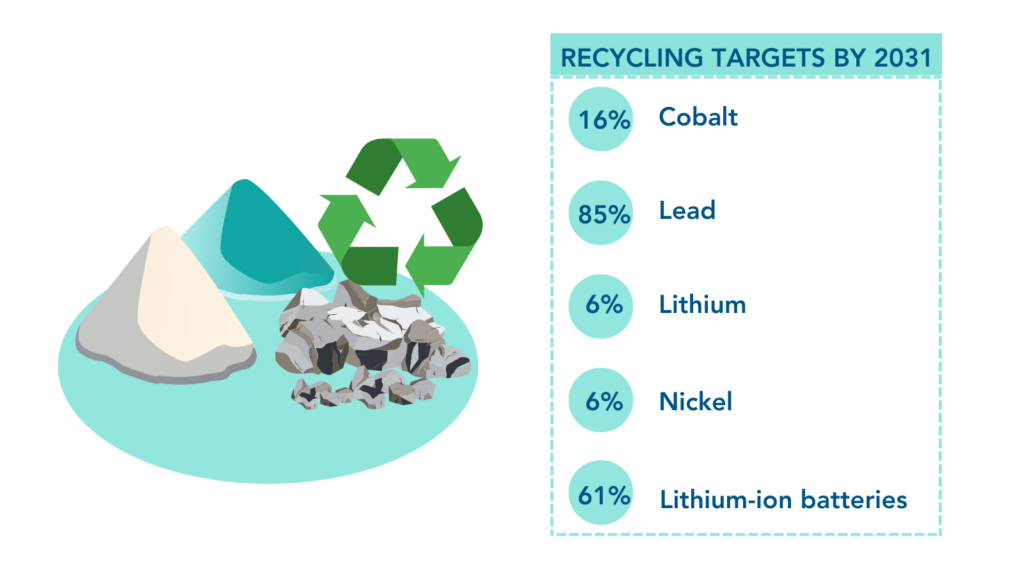 Recycled content targets
By 2031: 16% cobalt, 85% lead, 6% lithium, 6% nickel, must come from recovered battery manufacturing waste or post-consumer waste. By 2036: 26% cobalt, 85% lead, 12% lithium, 15% nickel.
Every battery must specify the amount of recycled content it contains.
For LMT batteries, a collection rate of 45% by 2028, and 61% by 2031.
Due diligence requirements
Economic Operators must clearly communicate due diligence policies in accordance with international standards to address social and environmental risks inherent in the sourcing, trading, and production of battery raw materials. (OECD guidelines and UN Guiding Principles on Business and Human Rights). This concerns the supply chains of Cobalt, graphite, lithium, nickel, and some other raw materials.
End of life
Total prohibition on landfilling of waster batteries. Economic operators must collect end of life batteries from end-users free of charge.
Advanced materials and manufacturing
Manufacturing liability and labelling
All EV, LMT, and rechargeable industrial batteries with a capacity of above 2 kWh are required to have a carbon footprint declaration and label, which includes the recycled content of cobalt, lead, lithium and nickel used in the production of the battery. This information must be available also via QR code by 2027.
These batteries will also need the digital battery passport, containing information on the battery model, its intended use, and more specifical information such as capacity, performance, durability, chemistry, and its recycling collection symbol. You can find out more about the battery passport from our article on the subject here.
Safety requirements
Restrictions on hazardous substances
Mercury – no more than 0.0005% by weight
Cadmium – no more than 0.002% by weight
Lead – no more than 0.01% by weight in portable batteries by 18.08.24
A report will be submitted to the European Parliament and Council by 2027 to potentially expand this list, to include other substances that are found to be hazardous to human health, or hampering recycling for safe and high quality secondary raw materials in batteries.
End uses and applications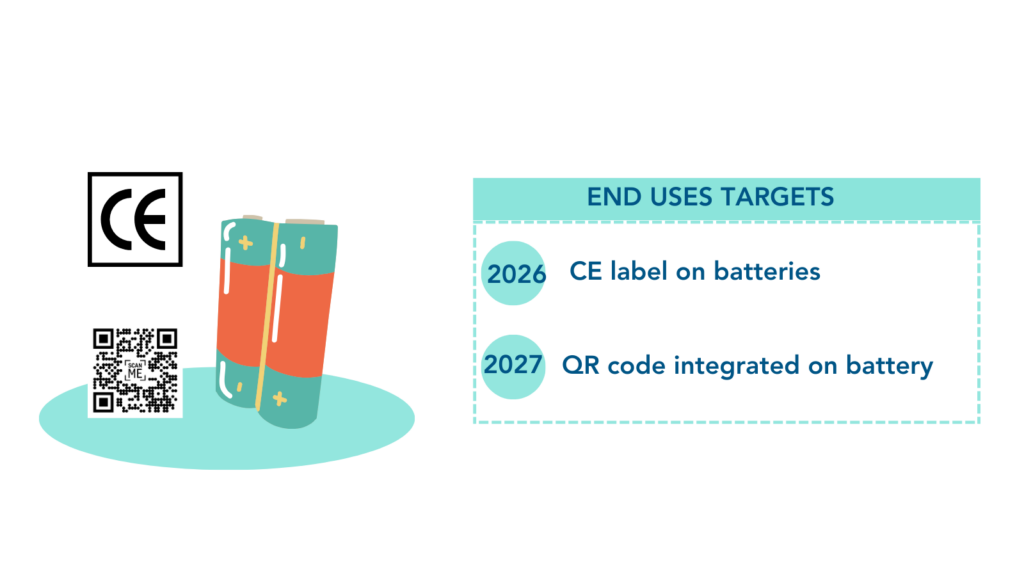 End user liability
By 2026, batteries will also need to be clearly marked with the "CE" label to demonstrate that it complies with EU health, safety and environmental standards. These labels must be placed on the overall device in a clearly visible location, rather than only on the battery itself. This information must be available also via QR code by 2027.
End users must discard waste batteries separately from other waste streams.
LMT batteries must be replaceable by an independent professional. End users have 42 months to adapt designs to their products to meet this requirement.
BMS must have software reset function to allow for a different BMS to be installed for use in its second life or end of life. Once this is done, the original manufacturer will no longer be liable for the battery.
Conclusion
The batteries regulation brings clear targets on recycled material, and what information is needed to be made available on batteries within the EU. It also provided clear guideline for due diligence and user responsibility throughout the lifetime of the battery. Many of the requirements and targets are set for several years from now, allowing economic operators to analyse and integrate the necessary changes into the their operations. On the other hand there are still many vague targets, or promises to introduce new requirements at a later date through delegated acts. Much will depend upon these, and therefore the batteries regulation is still far from complete. As the publication from DG RTD illustrates, BATT4EU is already actively involved in the research and innovation aspects to tackle these requirements, with several funded projects working towards things like the battery passport, recycling, LCA, and functions of BMS to provide necessary information, to name a few. BEPA will continue to monitor the updates of the regulation, and continue to identify and support the battery R&I needs to meet the goals of the batteries regulation and the European Green Deal.