The management conference with accompanying exhibition brings together the entire value system of battery technologies: Across industries, users, battery system & cell manufacturers and their suppliers will spend two days exchanging ideas and information, making new contacts and discussing how the industrial ramp-up with a high market share of battery-driven solutions in Europe can be achieved – on-site in Berlin and online.
The founding partners of the event are Panasonic, RockTech Lithium, VARTA and Wacker Neuson.
Around 800 participants are expected on-site as well as another 1,500 virtually.
Agenda
In 5 strategic focus areas, the participants learn and discuss the battery solutions of the future in keynotes, panel discussions and master classes:
• Material and component supply
• Scaling manufacturing
• Applications and use cases
• Lifecycle and sustainability
• Future battery technologies
At a glance
• 70+ C-Level Speaker: confirmed speakers – coming soon
• 35+ Partners and Sponsors: overview partners & sponsors
• 80 Exhibitors: list of exhibitors
Tickets
• Standard: from € 1,080
• Virtual: from € 370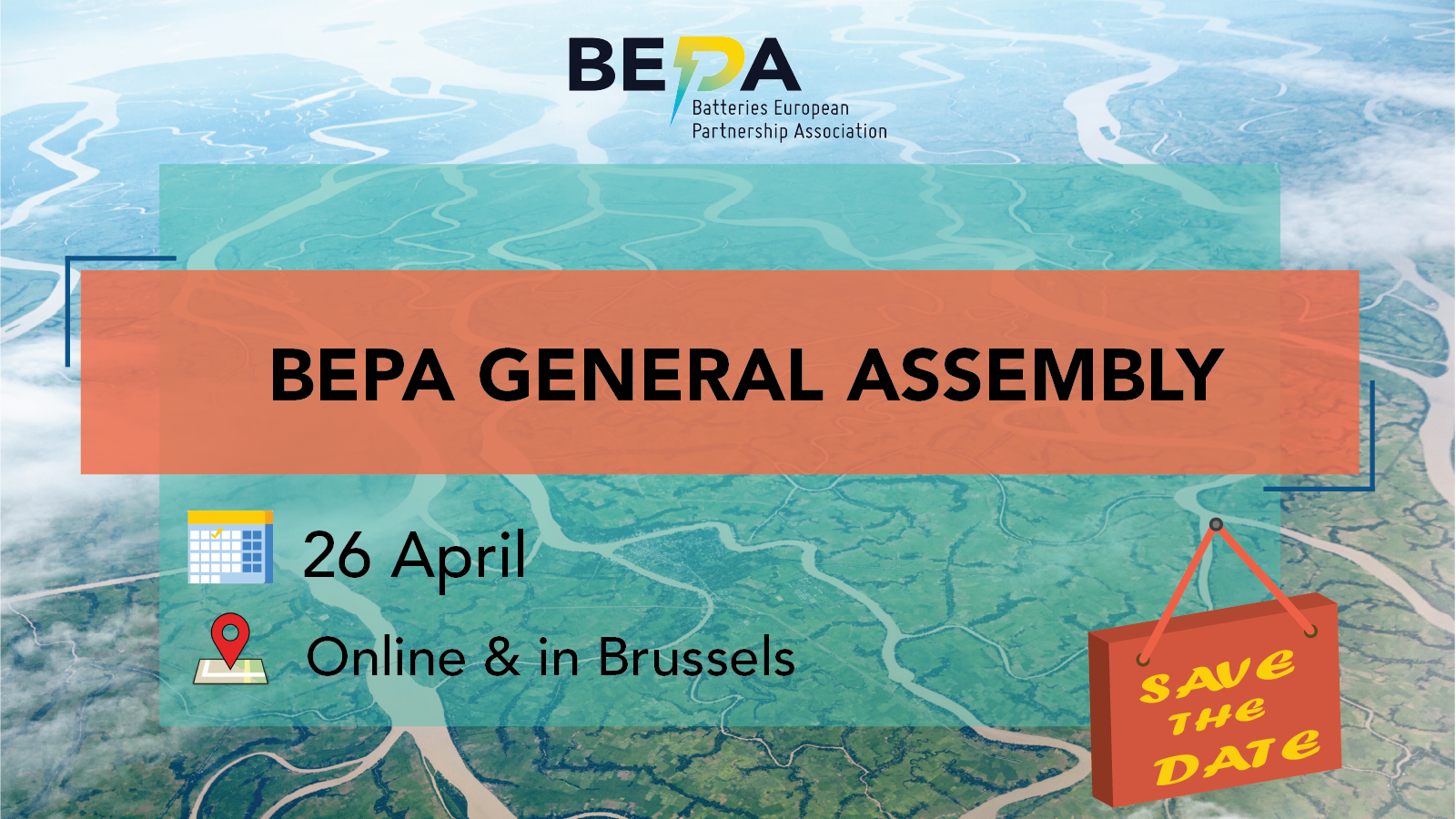 The Batteries European Partnership Association  is organising its fourth General Assembly on Tuesday, 26 April, in a hybrid gathering that will be held in Brussels and online. Over 170 members are expected to attend, including approximately 60 in-person participants and more than 110 attendees connecting online.
After two years of COVID-19 stay-at-home measures, members of BEPA's governing bodies, the Executive board and Association Delegation, seized the opportunity to meet face-to-face and jointly review various topics, such as
BEPA's 2021 budget,
BEPA's workplan and upcoming events in 2022,
the research priorities for the 2023-24 Horizon Europe programme
and new members that have joined the Association since the last General Assembly.
The European Commission will also highlight the importance of the Batt4EU (Batteries for Europe) Partnership, established under Horizon Europe, which gathers the European Commission and battery stakeholders from the European Research community to achieve a competitive and sustainable, European industrial value-chain. Members will get updated on the recommendations for the battery R&I topics for the Batt4EU Horizon Europe's Work Programme 2023-24, based on 3 focus areas and 2 cross-cutting issues that cover the entire battery industry's value chain. Furthermore, the European Commission's Joint Research Centre, will present the new collaboration agreement between the JRC, BEPA and the 2Zero Partnership for clean road transport.
After the general proceedings, a workshop on the battery passport will offer members information on what the digital representation and regulatory framework entail, as well as further details related to the ongoing initiatives. The battery passport workshop will also provide examples on how research and innovation activities can help tackle some of the challenges faced by the digital platform and contribute to its success.
Over the past year, BEPA has continued to grow, and now counts over 185 associate, industry and research members, with even more members expected to be announced, as a result of this fourth General Assembly.
For more information on BEPA and how to become a member, please visit this page.

The first BEPA Matchmaking event of 2022 for the 2022 Batt4EU Horizon Europe calls turned out a success!
More than 120 attendees joined the annual online matchmaking event to get an overview of the Horizon Europe calls on batteries which will be opening on 28 April 2022.
While Philippe Jacque, BEPA Secretary General, gave a short overview of the Batt4EU Partnership, and presented the results of the 2021 round of calls, as well as the calls for 2022, BEPA Executive Board members, Franz Geyer and Simon Perraud, highlighted the different calls and the specific call conditions in detail.
The gist of the event was, however, the two pitching sessions dedicated to members and (members of) some of BEPA's affiliated associations who presented their project ideas to scout for collaborations among listeners.
Jamie Smith from LiNa Energy highlighted their solid-state sodium battery technology and asked for collaboration on the call on Interface and electron monitoring for the engineering of new and emerging battery technologies (D2-01-02).
Mariusz Walkowiak, director of the Łukasiewicz Research Network – Institute of Non-Ferrous Metals (Poznań Division) pitched a consortium for call D2-01-05 to develop technologies for intrinsically safe e-bus batteries throughout the whole value chain – which his institute aims to lead.
Marion Bechtold from KU Leuven was also interested in forming a consortium for call D2-01-05, focusing on degradable, flexible zinc-ion batteries. She was interested in finding partners with expertise in modelling, electrolytes and machine learning.
Axel Schönecker from E-magy pitched their nano-porous silicon solution for silicon-dominant anodes. He could see a role for E-magy in a consortium for the D2-01-05 call, but was open to join consortia on other calls as well.
Next up was Mathieu Saraiva from the French Automotive & Mobility Network  who pitched a solution by their member Mersen interested in calls D2-01-05 and D2-01-06.
Viera Pechancova of Thomas Bata University in Zlín showcased their experience in European projects and declared their interest in joining consortia for the calls D2-01-05, D2-01-06 and D2-01-08.
SINTEF is building a consortium for call D2-01-01 on sustainable processing for graphite. Fride Vullum-Bruer presented the current consortium and was looking for an industry partner on the large scale production of graphite from biomass.
Pitches continued after the coffee break with additional project ideas!
Sonia García from the Tekniker, presented a project idea that will allow to extend the scope of the call D2-01-07 on virtual testing to other type of batteries, including redox-flow batteries.
Imran Ghoni recorded a video-pitch of the recycling process developed by Batteryminers, currently interested in joining a consortium for call D2-01-10.
Also interested in joining a consortium for D2-01-10 is Circunomics. Cesar Prados showcased their IoT platform for battery life management, allowing battery tracing via a circular twin, circular analytics and a circular marketplace for afterlife trading.
Luis de Prada from EUCAR highlighted how EUCAR functions as a bridge between the large vehicle OEMs and the research programme. He stated that the OEMs are interested in joining consortia on calls D2-01-05 to D2-01-10 and that EUCAR can serve as a contact point for consortia looking for end-users in the mobility field.
Finally, two members of EARPA, the association of automotive R&D organisations presented their projects.

Bernhard Stanje pitched a consortium for call D2-01-09 for a physics and data-based BMS.
Dimitrios Zarvalis of CERTH pitched that several EARPA members are converging on forming a consortium for D2-01-06 on embedding smart functionalities into battery cells.
With more than 300 people registered and over 66 meetings already scheduled, the matchmaking platform is successfully encouraging connections among battery stakeholders to find the perfect match for the 2022 Batt4EU Horizon Europe calls.
Until May 1st, registrations will remain open on the matchmaking platform in order to book 1-on-1 talks with other entities or post requests for projects and partners on the marketplace. Register here: BEPA MATCHMAKING
BEPA president, Michael Lippert, made the official closing remarks showing great enthusiasm in seeing the interest gathered from the entire battery value chain.
The SLIDES from the event are now available!

JOIN OUR MATCH-MAKING EVENT AND FIND YOUR PERFECT HORIZON EUROPE MATCH!
AGENDA AND REGISTRATION
On Thursday, 31 March, from 13:30 to 17:00, BEPA organises an online match-making event to create collaborations for the Horizon Europe battery calls, and present the 2022 Batt4EU calls that will be open for submission starting from 28 April 2022. To check the list of the 2022 Batt4EU calls, please click here.
During this public event, some BEPA experts will explore the open calls linked to batteries in the 2022 Work-Programme. After that, several members from European associations or battery initiatives will be granted 5 minutes to pitch their project ideas or innovative solutions linked to a specific call for proposal.
For more info, please find the agenda via this link: AGENDA
To participate to the event and try to find your perfect match for a Horizon Europe battery call please register via this link: REGISTER TO THE EVENT
FIND PARTNERS AND CREATE SYNERGIES ON OUR MATCH-MAKING PLATFORM!
Before and after the event, you will still have over a month to register to our matchmaking platform and book 1-on-1 talks with other entities or post requests for projects and partners on the marketplace.
*N.B. Please, note that you can register to the match-making platform even if you are not planning to attend the event on March 31St.
In order to register to the platform, please follow this link: REGISTER TO THE B2MATCH PLATFORM.
TRA, the Transport Research Arena, is the largest European research and technology conference on transport and mobility.
TRA is the foremost European transport event that covers all transport modes and all aspects of mobility. In 2022, TRA takes place in Lisbon, Portugal. Themed "Moving together – reimagining mobility worldwide", TRA2022 brings together experts from around the world to discuss the newest innovations and future of mobility and transport, building also on the Portuguese historical legacy and links to overseas transport professionals. Through the development of innovative solutions, TRA Lisbon 2022 aims for a more efficient, safer, carbon-free, inclusive, and sustainable transport in all its modes.
Shmuel De-Leon Energy and CIC energiGUNE decided to support that battery industry segments grow with a dedicated conference that will be a place to discuss and provide a platform for technological innovations and business opportunities.
The conference will discuss the latest advances and innovation in Electric Vehicle´s & Stationary batteries.
The management conference brings together the entire value system of battery technologies – at the Estrel Congress center in Berlin and online. Around 2,000 users, battery system & cell manufacturers and their suppliers will spend two days exchanging information, making new contacts and discussing how the industrial ramp-up with a high market share of battery-driven solutions can be achieved.
Batteries Event was one of the only battery on-site events in the world in 2020 and 2021. Batteries Event 2022 will again likely be one of the only opportunities to meet all then Battery industry Players: raw material suppliers, Car manufacturers and cell manufacturers: CATL, ACC, Verkor, Envision, Farasis, S-Volt, Freyr, as well as the historical players will be in Lyon to explain their strategy and detail their Roadmap.
eMove360° Europe 2022 is the world's most important trade fair for Mobility 4.0 – electric – connected – autonomous. It presents the full range of future-oriented and sustainable mobility solutions, from urban & mobile design, material and process solutions, from automated driving and electronics to infotainment. The fair's target group are developers and designers, IT experts, as well as buyers and users, such as fleet managers, decision-makers in cities, communities, tourist regions and service providers.
IBA22 is a great opportunity to learn about the progress in basic research with practical applications in the field of advanced battery materials, advanced characterization techniques for battery materials, and new systems. We expect that world-renowned representatives from academia and industry from all continents will share insights on their recent advancements and stimulate discussions on interdisciplinary battery research and development.