BEPA was present at the International Congress for Battery Recycling 2022 which was held in Salzburg, Austria, on 14-16 September. The conference featured Battery recyclers from all over Europe, along with many international representatives from Asia, North America, and elsewhere. While many different topics and perspectives were presented, the tone was clear: European battery recyclers are ready and willing to mee the demand of the growing battery market. While many admitted that Li-ion battery recycling is commonly thought of as an up and coming technology for the near future, the presenters and exhibiters made clear that this is no longer the case, the technology is here, it is effective, and it can significantly help the growing material challenge. While new raw materials will likely always be needed, battery recycling can play a huge part to alleviate this growing cost. Many recyclers are proudly able to retrieve more than 90% yield from used batteries, recovering nearly all of the valuable materials. In a world where international competition and raw material scarcity make batteries more and more expensive, the ability keep 90+% of the materials in use in a circular economy is a huge benefit.  
Another point frequently mentioned in the conference centred on the upcoming Batteries Regulation, setting standards and requirements for battery recycling. A presentation from a representative of the European Commission gave an update on the regulation, and explained that battery recycling is a strategic imperative for Europe. Battery recyclers responded to this by explaining their eagerness to contribute, and with their confidence in meeting – and exceeding – recycling targets. Another presenter pointed out that while there are not yet formal standards in Europe for recycling, dozens of presentations outlining strikingly similar processes prove that most are operating in a standard way regardless, and thus the prospect of official standards being introduced are not viewed with concern.  
That being said, there are naturally several topics of debate among the battery recycling industry. Recycling batteries versus reusing them for second life applications remains a hot topic, along with the more practical debate of disassembly versus crushing used batteries. The limiting factors for disassembly are generally do not necessarily be solved by new technology, but by different business decisions. Battery producers can encourage disassembly by taking disassembly into consideration in their design and refrain from design decisions like the use of 6 different sizes of screws in one battery pack, for example. In such cases, crushing the battery whole then becomes the easier option, though this limits the recoverable materials from the battery. Re-using old batteries for second life applications also has its challenges, however it was also demonstrated that both are possible, by discharging used batteries help power the recycling facility, for example. 
Some of the other challenges relate to the business case, like receiving enough batteries to make the recycling operation profitable on one side, and finding buyers for black mass and recovered materials on the other. This is also depends on the chemistry of the batteries received, with the materials inside having a big impact on the business case of the recycling operation. Certain chemistries are not currently recycled, simply because it is not profitable to do so in the current economy. However, battery recyclers remain optimistic that with the rising demand for materials and growth in the demand for batteries, these challenges will soon be a thing of the past.  
BEPA is very encouraged to hear the optimism and eagerness of European battery recyclers to fulfil their role in the battery value chain and help create a circular economy. Recycling remains one of the core areas of interest of the Batt4EU Partnership, with 3 grant calls launched in 2021 and 2022 and more calls to come in the future. Many battery recyclers are excited to demonstrate their ability, and look forward to the upcoming battery recycling topics in the next Horizon Europe Work programmes. To provide input on new battery recycling topics under Batt4EU Partnership, and the strategic agenda for battery recycling technology, and to join a large and growing network across the value chain, battery recyclers are encouraged to participate in BEPA.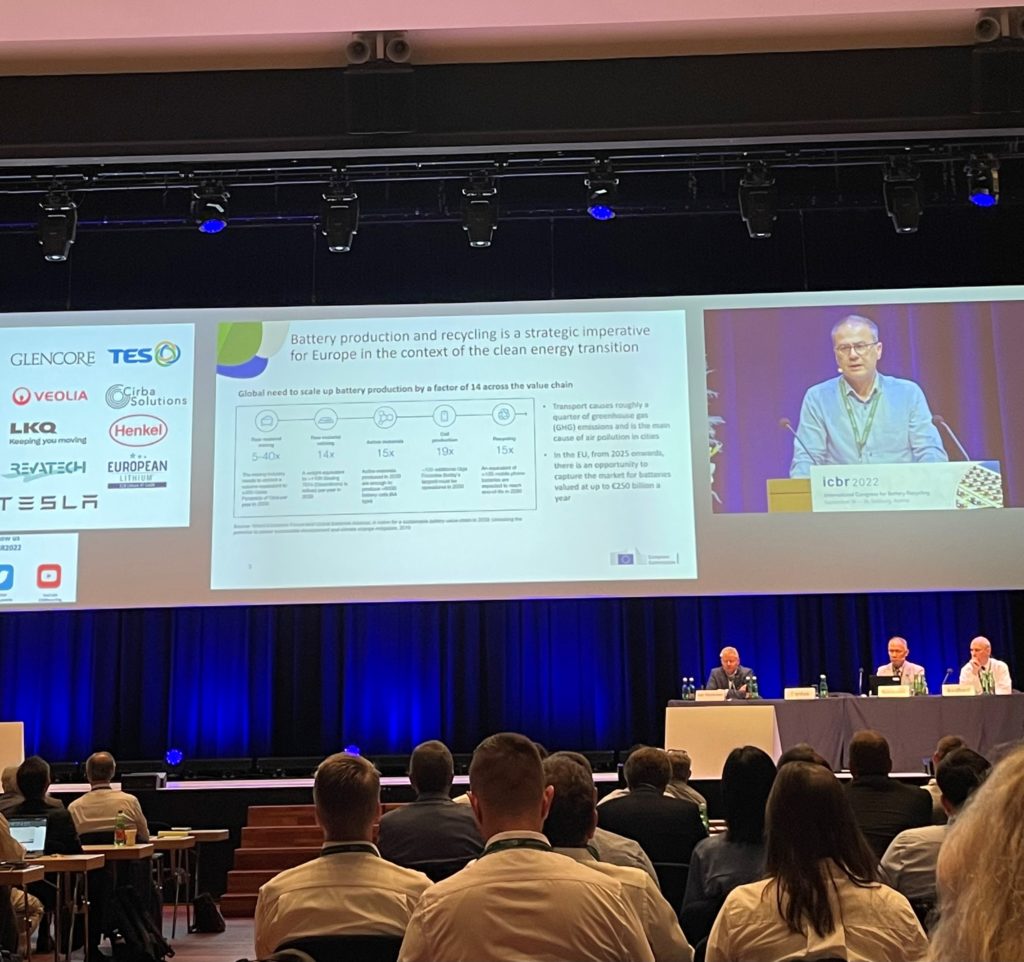 The next BEPA General Assembly has been Scheduled for December 6th. We look forward to welcoming you in Brussels once again, after the success of the previous General Assembly in the Spring. This GA will once again be held physically in Brussels, and will include elections for the BEPA Executive Board, and Association Delegation. The General Assembly is open to BEPA main representatives, or those coming in place of their organisation's main representative.
More information will follow as it becomes available.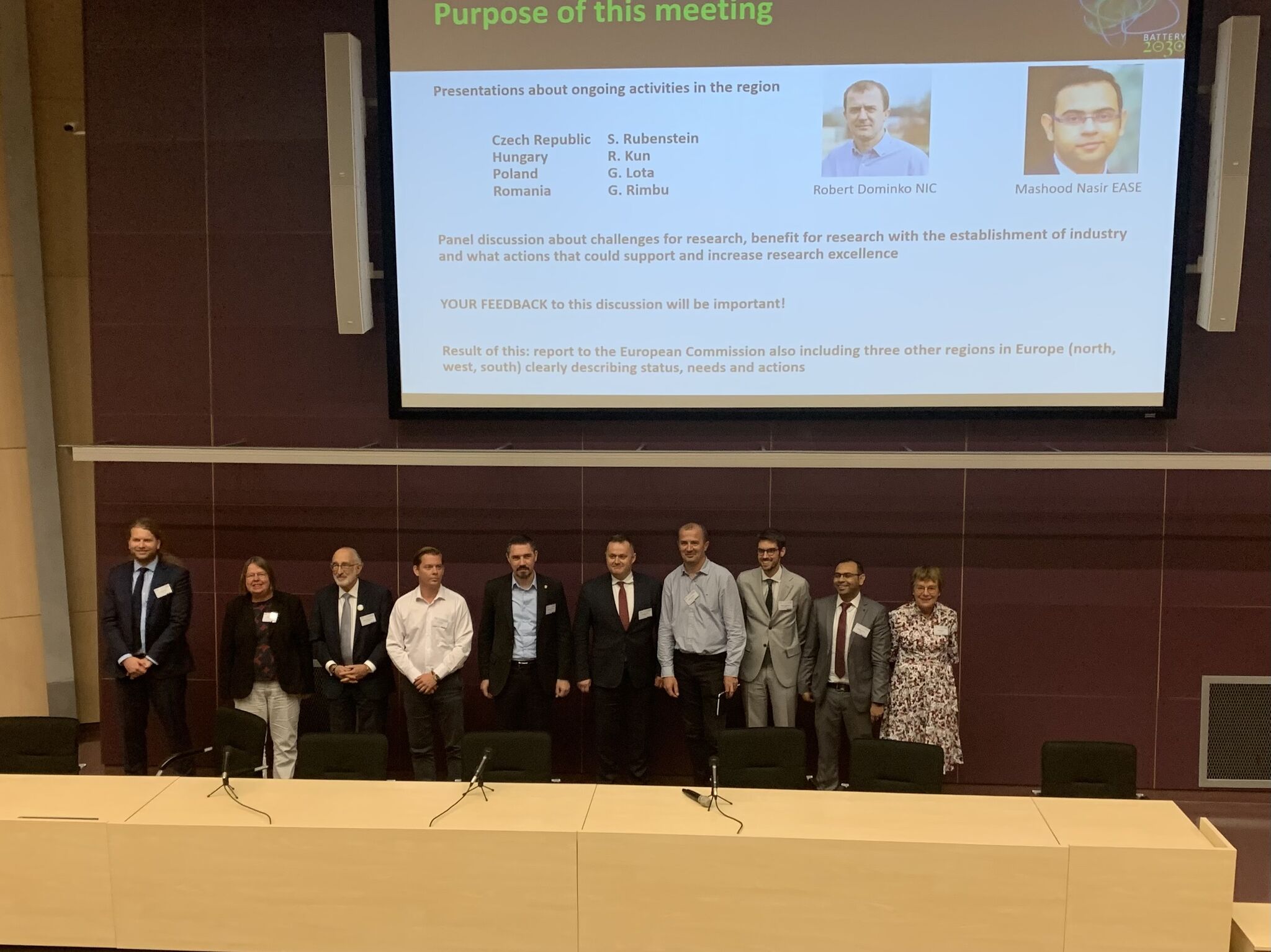 The BEPA Office attended the 23rd Advanced Batteries, Accumulators and Fuel Cells conference in Brno, Czech Republic in August to connect to the latest developments in battery R&I in Central and Eastern Europe and beyond. The encounter was facilitated by a roundtable discussion organised by the Battery2030+ consortium. In this first of four roundtable discussions, Battery2030+ is reaching out to long-term research initiatives that happen on national and local level around Europe.
The national representatives of Poland, Hungary, Romania and the Czech Republic present shared the current state of the battery landscape in their countries and the efforts that were ongoing to tie the booming local industrial activities to their research ecosystem. One conclusion is that while there remains a lot of work to be done to create synergies at a national level, there is an urgent need to connect with European initiatives and join consortia in European projects. More contacts with their European counterparts will help these countries to take a place within the new European supply lines for sustainable batteries. The Battery2030+ consortium partner EASE will organise 3 more meetings with representatives of the Northern, Southern and Western European regions and then bundle their findings into a report for the European Commission. BEPA will remain in contact with the national representatives and the other organisations present at the conference to ensure that BEPA also represents the voice of central and eastern European research in their dealings towards the Commission. The conference also showcased many exciting research projects carried out by students and young researchers entering the European battery ecosystem in Czech Republic and beyond.
The BEPA Office would like to thank the Faculty of Electrical Engineering and Communication of the Brno University of Technology for hosting us and bringing us into contact with battery researchers from all over Europe and beyond.
In the upcoming months, BEPA will be present at several battery research events around Europe. In August BEPA will be present at the conference on Advanced Batteries, Accumulators and Fuel Cells (ABAF) in Brno, Czech Republic to meet more researchers from Central and Eastern Europe.
In September, together with Battery2030+, Batteries Europe and the two battery IPCEIs, BEPA will be hosting the Battery Innovation Days in Brussels (and online) on 13 and 14 September. That month we will also be present at the Congress for Battery Recycling in Salzburg, as well as hosting a session at the European Sustainable Energy week on September 28th.
In October, BEPA will be attending the IBA2022 in Bled, Slovenia during the week of the 2nd through the 7th. BEPA will also join the Batteries Event 2022 in Lyon, France from the 18th to the 21st, along with battery2030+.
In November, we will attend the Future Battery Forum in Berlin on the 3rd and 4th, and shortly after BEPA will attend the Transport Research Arena 2022, held between 14 and 17 November in Lisbon. BEPA is planning to have both a booth and to hold a session to reach out to stakeholders in the mobility sector, and we will again be joined by Battery2030+, Batteries Europe and the two IPCEIs, showing the increasing alignment between Europe's battery research initiatives.
Feel free to contact us in case you want to meet up during one of these events!
The collaboration between BEPA, EGVIAfor2Zero, and the European Commission Joint Research Centre (JRC) has been officially launched after a full day of discussion between the three parties at the Hilton Hotel at the Amsterdam airport in Schiphol, the Netherlands. The session in Amsterdam on June 28th signified the renewal of a longstanding collaboration between the JRC and EGVIA, now with BEPA as its third party, linking the work being done with research done within the BATT4EU partnership.
The collaboration agreement defines 8 activities for collaboration related to battery safety, reliability and sustainability. During the meeting, the JRC presented updates on recently completed projects and ongoing research in these areas. These updates provided some background and showed possible pathways for the first steps in collaboration, with information sharing and feedback on some of these ongoing efforts.
BEPA Chairman Michael Lippert thanked the JRC and EGVIA for setting up this collaboration and inviting BEPA. He remarked that the defined topics are interesting, and that information sharing is not easy with these constantly evolving technologies, but that it's all the more necessary to keep each other informed.
The session in Amsterdam proved that there was a big appetite for collaboration from all sides and the parties will investigate the possibility of future workshops on areas of common interest, such as the batteries regulation and safety standards. After a productive kick-off session, BEPA looks forward to working closer with EGVIA and the JRC, and to the future meetings between the three parties.
BEPA and Batteries Europe are in the process of establishing integrated Working Groups. This means that BEPA members are automatically invited to join the work done by Batteries Europe on establishing the current state of play of the European battery innovation landscape and what research needs need to be tackled to meet Europe's climate targets. Both initiatives will work together on a joint Strategic Research and Innovation Agenda (SRIA), creating one document to highlight the most urgent research needs in Europe.
These working groups will follow the structure currently in use by Batteries Europe, making a total of 6 working groups.
The first Working Group will focus on New and Emerging Technologies, bringing a long-term view to the entire battery value chain. The other five working groups will be covering topics along the battery value chain, namely:
WG2 on Raw Materials and Recycling
WG3 on Advanced Materials
WG4 on Cell Design and Manufacturing
WG5 on Mobility Applications and Integration
WG6 on Stationary Applications and Integration
These Working Groups will remain restricted to BEPA members when discussing the work done within the Batt4EU Partnership, such as prioritising and defining the call topics for the Horizon Europe Work Programme.
In addition, supporting Task Forces will be set up for transversal issues. More information is this is expected after the summer.
In the framework of the IPCEIs on Batteries, Italian companies meet on 20th July in Catania for an event, in a hybrid form, of informal discussion for their projects. Particular attention will be placed on the creation of possible synergies and spillovers to support creation and development of the European battery value chain.
09:00- 9:30 WORKSHOP REGISTRATION and WELCOME COFFEE
OPENING AND GREETINGS
Moderator: Stefano Saguatti
09:30: Workshop opening (Stefano Saguatti – Batteries Europe) – In presence
09:35: Enel X welcome message (Francesco Venturini – CEO Enel X) – Remote
09:40: Italian Ministry of Economic Development (Simone Vellucci – Deputy Head of Cabinet Office) – Remote
WORKING SESSION
Moderator: Luigi Lanuzza
09:45: The landscape of R&I European Battery eco-system (Francesco Vellucci ENEA)
R&I: ADVANCED RAW MATERIALS AND RECYCLING
09:50: FBK (Edoardo Gino Macchi)
10:00 ENEA (Pier Paolo Prosini)
10:10 SOLVAY (Riccardo Pieri)
10:20 ITALMATCH (Maria Cristina Pasi)
10:30 ENGITEC TECHNOLOGIES (Edoardo Guerrini)
10:40 Enel X (Luigi Lanuzza)
10:50 Coffee Break
BATTERIES MANUFACTURING & APPLICATIONS
11:05 MANZ (Simone Belardinelli)
11:15 FAAM (Civitillo/Vitali)
11:25 GREEN ENERGY STORAGE (Ilaria Pucher)
11:35 ENDURANCE (Claudio Mus)
11:45 FLASH BATTERY (Silvia Del Bono)
11:55 MIDAC (Matteo Cavalletti)
12:05 FPT (Gianluca Zottolo)
12:15 Enel X (L. Lanuzza o Massimiliano De Benedetti)
HOW TO BUILD A COMPETITIVE LANDSCAPE – Panel Session
12:25 Participants: FPT, FAAM, ENGITEC, Enel X, MANZ
13:00 REGIONE SICILIA (Antonio Martini – Head of Energy Department Regione Sicilia)
13:15 Summary and conclusions
13.30 Lunch & networking
15:00 VISIT TO X LAB
The fifth edition of the Energy Storage Global Conference (ESGC) will be held on 11 – 13 October 2022 and is organised by EASE – The European Association for Storage of Energy, with the support of the European Commission's Joint Research Centre, as a hybrid event at Hotel Le Plaza in Brussels, as well as online.
The three-day event will gather over 500 participants, sponsors and exhibitors, who will have the possibility to connect and interact in-person and online, throughout the whole conference. ESGC attracts key energy storage stakeholders, expert speakers and representatives from European Institutions and National Governments.
The Energy Storage Global Conference covers three topics that represent the whole value chain of energy storage, offering great opportunities to industry, researchers, and policymakers to exchange views on key issues faced by the energy storage sector. Representatives from around the world will gather for three days to discuss regulatory and policy frameworks, the future energy storage market and the latest developments in energy storage technologies.
Day 1 – POLICY: Debate the most pressing challenges to the development of energy storage, learn from best practice examples, and discuss energy storage market design and regulatory frameworks with policymakers, National Regulatory Authorities and speakers from around the globe.
Day 2 – MARKET: Learn from successful and innovative business cases, investments, emerging markets, trends and storage applications.
Day 3 – TECHNOLOGY: Discover the latest cutting-edge energy storage technologies and engage in thorough, technical discussions with leading experts driving storage technology development.
Interested? Use the discount code BEPA10 to benefit from a 10% discount on the 3-Day Pass!

Creating a seamless all-in-one experience, the second edition of the Battery Innovation Days is coming back and is set to take place on 13 & 14 September in a hybrid format, in Brussels (The EGG congress and meeting centre) and online.
Today's key European Research & Innovation initiatives (Batteries Europe, Battery 2030+ and the Batteries European Partnership Association) in partnership with the Batteries 1st and 2nd IPCEIs, will host a unique hybrid experience designed to bring together numerous key players and experts from the battery field, including representatives from the European Commission.
The Battery Innovation Days event fosters dialogue among the Research community, Policy makers, Industry players and end-users to ensure a constructive feedback loop towards the definition of research and innovation priorities in Europe. The scope of the Battery Innovation Days event is to increase knowledge and encourage exchange around the deployment of leading-edge technologies in battery materials, cell design, manufacturing and recycling.
Agenda
Including discussions around the battery passport; digital twins for manufacturing; how to improve BMS architectures in the automotive industry; the deep revision currently underway to develop post li-on battery technologies, and much more in a two-day inclusive conference that looks at building a more responsible battery value chain together.
Check out the Agenda and bookmark your favourite sessions now!
Why Attend 
Network and connect with Industry peers: Conversing with like-minded industry experts coming from different backgrounds and companies can provide a refreshingly different insight;
Stay on top of Trends and technologies: get a handle on the market, and bring awareness to your business by fully immersing in our two-day conference that will cover the hottest topics in the battery industry. Check out the speakers' list from 2021!
Attend the delivery of the Battery Young Research Award: honouring academic excellence in battery research, the award recognises the commitment of those students supporting scientific advancements in the field;
Gain industry insights: visit our sponsors' stands on-site and connect remotely with our interactive exhibitor booths to learn more about the short and long-term industrial R&I roadmap and on the impactful research findings generated in Europe;
Enjoy a networking cocktail: broaden your network of contacts, and develop existing ones during the Battery Innovation Days Networking Cocktail on 13 September, 2022
Tickets
The Battery Innovation Days is a free-of-charge event.
Physical participation: your physical ticket enables access to the physical venue; join numerous battery stakeholders and experts in Brussels discussing the most promising battery technologies coming our way! Build face-to-face connections, visit our sponsors' booths and enjoy a memorable cocktail party!
Online participation: Make the most of your experience on our virtual platform, engage in matchmaking network sessions, attend our keynotes and panels from anywhere in the world, and be sure to visit our exhibitors' virtual booths.

The management conference with accompanying exhibition brings together the entire value system of battery technologies: Across industries, users, battery system & cell manufacturers and their suppliers will spend two days exchanging ideas and information, making new contacts and discussing how the industrial ramp-up with a high market share of battery-driven solutions in Europe can be achieved – on-site in Berlin and online.
The founding partners of the event are Panasonic, RockTech Lithium, VARTA and Wacker Neuson.
Around 800 participants are expected on-site as well as another 1,500 virtually.
The BEPA secretariat will be in attendance, and looks forward to engaging with members and other battery stakeholders.
Agenda
In 5 strategic focus areas, the participants learn and discuss the battery solutions of the future in keynotes, panel discussions and master classes:
• Material and component supply
• Scaling manufacturing
• Applications and use cases
• Lifecycle and sustainability
• Future battery technologies
At a glance
• 70+ C-Level Speaker: confirmed speakers – coming soon
• 35+ Partners and Sponsors: overview partners & sponsors
• 80 Exhibitors: list of exhibitors
Tickets
• Standard: from € 1,080
• Virtual: from € 370