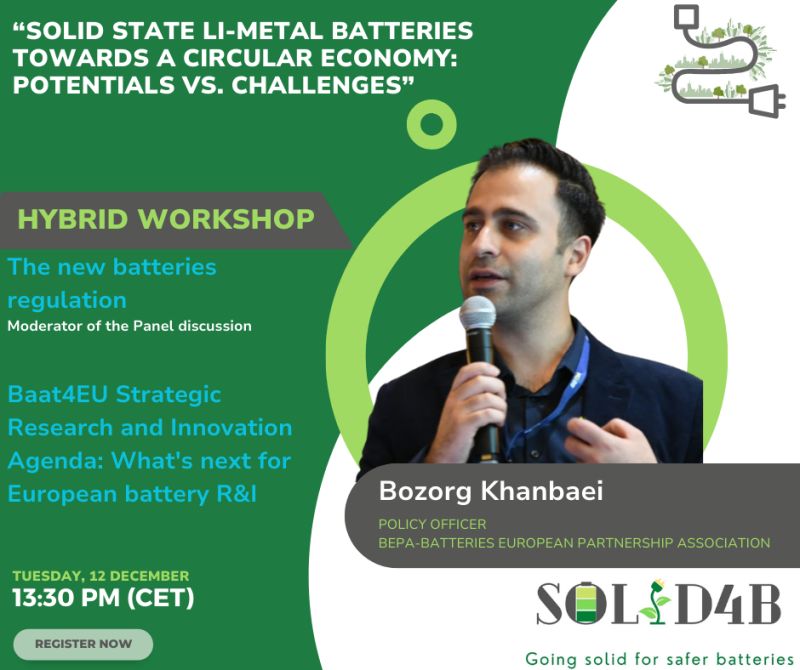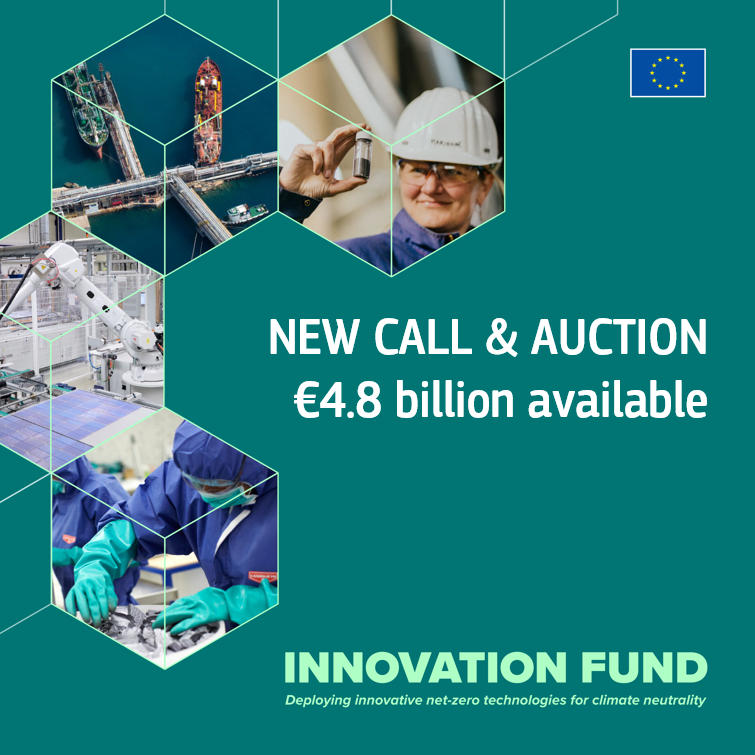 On November 23rd, the European Commission kicked off the 2023 call for the Innovation Fund, boasting a ground-breaking budget of €4 billion dedicated to propelling innovative decarbonization technologies to new heights. 
What are the Topics and requirements?
Below you can find the list of the five categories of projects to be funded under this scheme, all of which include batteries (open to the maritime, road transport and buildings sectors) and energy storage within the scope.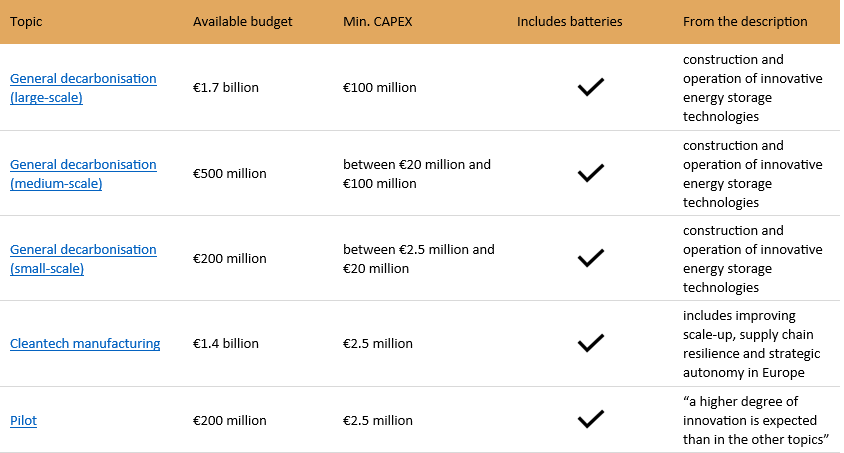 🗓️  Important Dates:
About the Innovation Fund
With an estimated revenue of €40 billion from the EU Emissions Trading System between 2020 and 2030, the Innovation Fund aims to create financial incentives for companies and public authorities to invest in cutting-edge low-carbon technologies and support Europe's transition to climate neutrality. The Innovation Fund has already awarded about €6.5 billion to more than 100 innovative projects through its previous calls for proposals.
For more information, including the funded projects and national contact points, please visit the website of the Innovation Fund  

Ready to make a lasting impact? This is your opportunity to shape the future of decarbonization.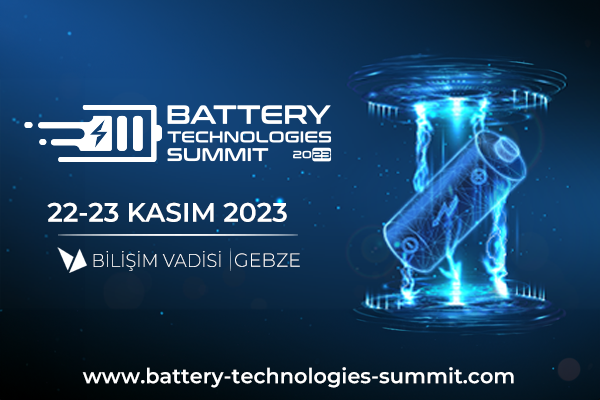 On 22-23 November the Battery Technologies Summit will bring together the pioneers of the industry with innovative minds and to convey the latest technological developments and international perspectives.
The event is organized by the BEPA member PilDER, the Turkey-based battery manufacturers and suppliers association. As a result of the media partnership between BEPA and The Battery Technology Summit, BEPA members can get a discount of 30% (x2) or 15% (x50) on their tickets on first come first served basis. Please email us for more information.

On Friday 10 October, The European Commission adopted the revised Strategic Energy Technology (SET) Plan. The SET Plan is crucial in supporting research and innovation for the development of clean, secure and efficient energy technologies. The SET Plan paved the way for the BATT4EU co-programmed partnership under Horizon Europe.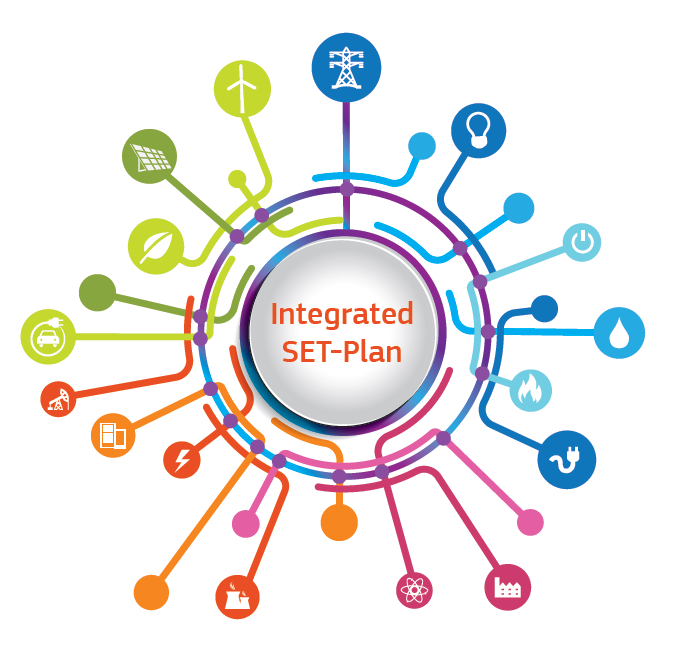 The revised SET plan will take a task force approach to address the following cross-cutting issues:
Digitalisation: "Ensuring that smarter assets can communicate easily and offer flexibility will be important in balancing supply and demand of our energy system, thus facilitating the integration of decentralised renewable energy sources and reducing their curtailment. Digitalisation will be key to supporting the flexibility that energy-intensive industries need to respond to challenges such as electrification or volatile energy supply"
Upskilling and reskilling: "The revised SET Plan will support the European Net-Zero Industry Academies announced in the Net-Zero Industry Act, by building on the experience of the European Batteries Academy . Each academy will aim to train 100 000 people within their first 3 years."
Accelerated market uptake: "The revised SET Plan will develop strong links between the ETIPs and industrial alliances (the European Battery Alliance, the European Clean Hydrogen Alliance and the Solar PV Industry Alliance), to promote the development of viable investment projects and manufacturing capacity in clean energy technologies in the EU, and to address market, regulatory, infrastructure and technological barriers to their large-scale deployment."
Improve access to funding to scale up innovations: "The actors involved in the revised SET Plan should aim to secure increased financial support for the Clean Energy Transition Partnership co-funded under Horizon Europe, to support the stronger ambitions, including increased collaboration between ETIPs under the ETIPs Forum . Synergies and complementarities should be sought between the activities of the SET Plan and the Innovation Fund. The Commission calls upon SET Plan countries to increase efforts to spend 3% of their GDP on R&I and to foster the scale-up of innovations."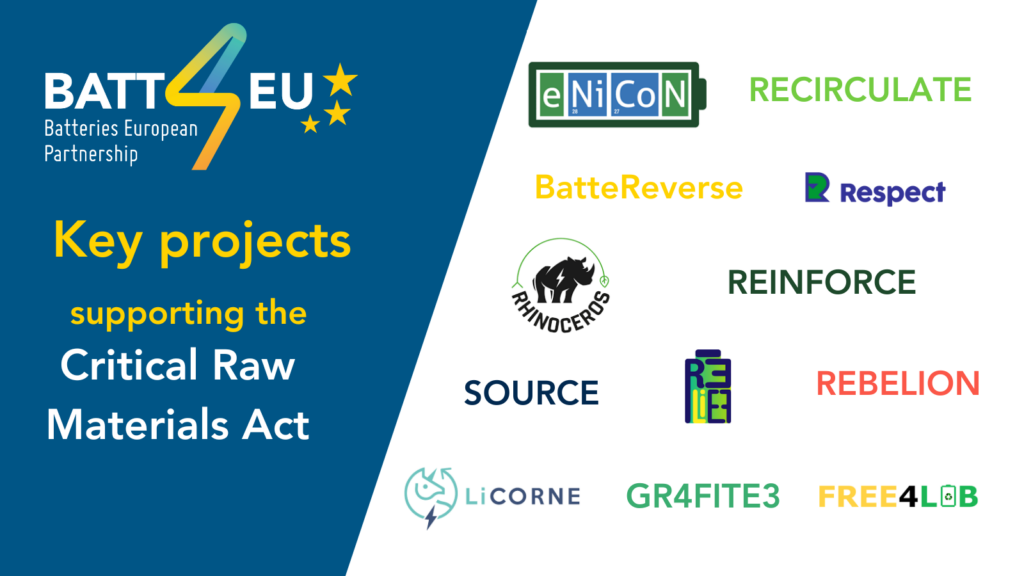 Today the European Parliament's ITRE Committee has cast its vote on the draft Critical Raw Materials Act (CRMA). This act , aims to increase EU strategic autonomy by stimulating the domestic production of battery raw materials through raw materials extraction, processing, and recycling in Europe.  
The Batteries European Partnership Association (BEPA) welcomes the outcomes of this vote as a great opportunity for the battery raw material sector in Europe. The fast tracking of lengthy and costly permitting processes and barriers can encourage more investment in exploiting the raw materials available in Europe. Sustainability and circularity are just as much of a focus, with the agreed recycling targets, the regulation is set to maximize the use of existing raw materials and reduce the need for new materials.
While BATT4EU projects may not target mining directly, they provide support for the raw materials sector by funding research to boost European processing capacity, create a circular value chain, and reducing the amount of critical raw materials needed for batteries. However, more research funding is needed for Horizon Europe battery projects to ensure a competitive European battery value chain.
"We would welcome the inclusion of raw materials projects under the Innovation Fund as proposed by T&E, as it will provide a clear pathway for our Horizon Europe projects on Raw Materials and help them to upscale their research results, which will boost processing capabilities."- Wouter IJzermans, Executive Director, BEPA
The ongoing BATT4EU projects are contributing to the targets of the CRMA as they cover the raw materials supply chain; from processing to recycling. Among the BATT4EU projects; there are 11; ENICON, LiCORNE, RELiEF, RESPECT, FREE4LIB, RHINOCEROS, GR4FITE3, SOURCE, BatteReverse, REBELION, RECIRCULATE and REINFORCE which aim to bring new and advanced technologies to improve recycling efficiency and processing capabilities.
ENICON addresses sustainable processing of Europe's low-grade nickel/cobalt ores into battery-grade metals.
LiCORNE aims to establish the first-ever Li supply chain in Europe.
RELIEF focuses on Lithium recycling from secondary raw materials.
RESPECT works on safe and efficient Li-ion battery recycling
FREE4LIB aims for critical raw material recovery in a Li-ion battery cross-value chain.
RHINOCEROS focuses on battery reuse and raw material recycling use eco-friendly tech.
GRAFITE3 focuses on graphite resilience for lithium-Ion battery anodes through a sustainable European End-to-End supply chain.
SOURCE creates sustainable routes for synthetic graphite production.
BatteReverse enhances Li-ion battery reverse logistics for safety and sustainability.
REBELION focuses on streamlining Lithium-ion battery repurposing and recycling.
RECIRCULATE involves battery reuse through characterization, smart logistics, automated disassembly, repackaging, and a blockchain-based marketplace.
REINFORCE aims for standardized, automated, safe, and cost-efficient processing of end-of-life batteries for second and third life reuse and recycling.
The long awaited Batteries Regulation has been revealed earlier this summer, and went into effect 17 August. The regulation applies to all economic operators of every type of battery placed within the EU market. Economic operators is defined as all manufacturers, producers, importers, and distributors. The regulation applies to all batteries in the EU, regardless of the origin of the battery or its materials, including portable batteries, electric vehicle batteries, and LMT (Light means of transport) batteries.
Raw materials and recycling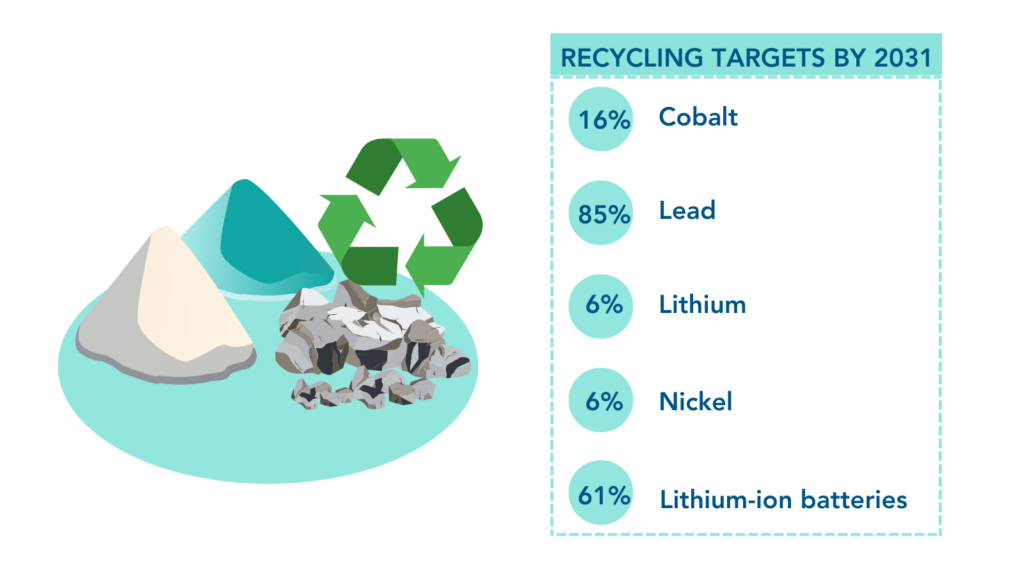 Recycled content targets
By 2031: 16% cobalt, 85% lead, 6% lithium, 6% nickel, must come from recovered battery manufacturing waste or post-consumer waste. By 2036: 26% cobalt, 85% lead, 12% lithium, 15% nickel.
Every battery must specify the amount of recycled content it contains.
For LMT batteries, a collection rate of 45% by 2028, and 61% by 2031.
Due diligence requirements
Economic Operators must clearly communicate due diligence policies in accordance with international standards to address social and environmental risks inherent in the sourcing, trading, and production of battery raw materials. (OECD guidelines and UN Guiding Principles on Business and Human Rights). This concerns the supply chains of Cobalt, graphite, lithium, nickel, and some other raw materials.
End of life
Total prohibition on landfilling of waster batteries. Economic operators must collect end of life batteries from end-users free of charge.
Advanced materials and manufacturing
Manufacturing liability and labelling
All EV, LMT, and rechargeable industrial batteries with a capacity of above 2 kWh are required to have a carbon footprint declaration and label, which includes the recycled content of cobalt, lead, lithium and nickel used in the production of the battery. This information must be available also via QR code by 2027.
These batteries will also need the digital battery passport, containing information on the battery model, its intended use, and more specifical information such as capacity, performance, durability, chemistry, and its recycling collection symbol. You can find out more about the battery passport from our article on the subject here.
Safety requirements
Restrictions on hazardous substances
Mercury – no more than 0.0005% by weight
Cadmium – no more than 0.002% by weight
Lead – no more than 0.01% by weight in portable batteries by 18.08.24
A report will be submitted to the European Parliament and Council by 2027 to potentially expand this list, to include other substances that are found to be hazardous to human health, or hampering recycling for safe and high quality secondary raw materials in batteries.
End uses and applications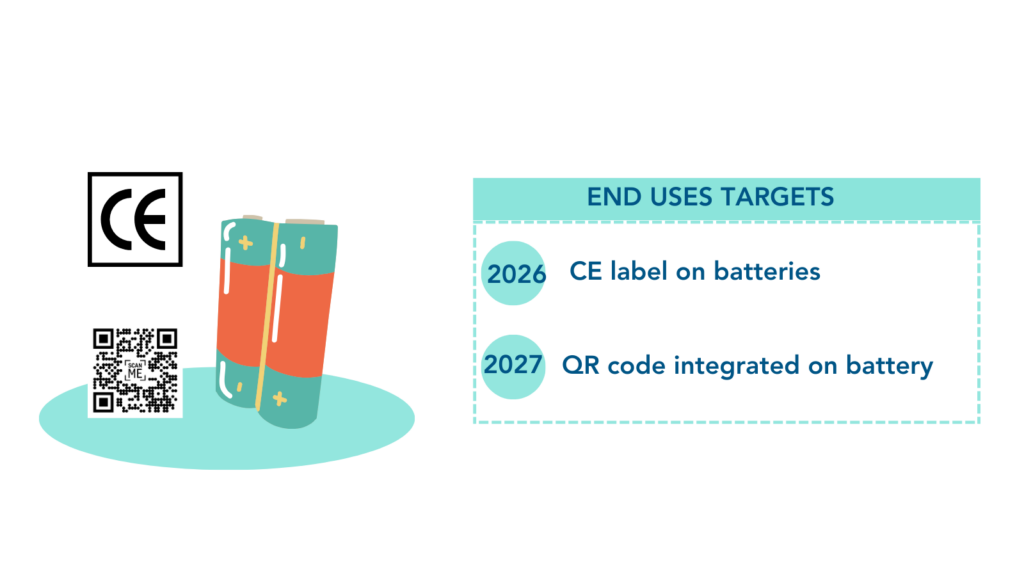 End user liability
By 2026, batteries will also need to be clearly marked with the "CE" label to demonstrate that it complies with EU health, safety and environmental standards. These labels must be placed on the overall device in a clearly visible location, rather than only on the battery itself. This information must be available also via QR code by 2027.
End users must discard waste batteries separately from other waste streams.
LMT batteries must be replaceable by an independent professional. End users have 42 months to adapt designs to their products to meet this requirement.
BMS must have software reset function to allow for a different BMS to be installed for use in its second life or end of life. Once this is done, the original manufacturer will no longer be liable for the battery.
Conclusion
The batteries regulation brings clear targets on recycled material, and what information is needed to be made available on batteries within the EU. It also provided clear guideline for due diligence and user responsibility throughout the lifetime of the battery. Many of the requirements and targets are set for several years from now, allowing economic operators to analyse and integrate the necessary changes into the their operations. On the other hand there are still many vague targets, or promises to introduce new requirements at a later date through delegated acts. Much will depend upon these, and therefore the batteries regulation is still far from complete. As the publication from DG RTD illustrates, BATT4EU is already actively involved in the research and innovation aspects to tackle these requirements, with several funded projects working towards things like the battery passport, recycling, LCA, and functions of BMS to provide necessary information, to name a few. BEPA will continue to monitor the updates of the regulation, and continue to identify and support the battery R&I needs to meet the goals of the batteries regulation and the European Green Deal.

JOIN OUR MATCH-MAKING EVENT AND FIND YOUR PERFECT HORIZON EUROPE MATCH!
On Thursday, 16 November 2023, from 14:00 to 17:00, BEPA organises a match-making event in Bordeaux, France to create collaborations for the Horizon Europe battery calls, and present the calls for 2024.
During this event, some BEPA experts will explore the open calls linked to batteries in the 2024 Work-Programme. After that, several members
During this event, some BEPA experts will present the open calls linked to batteries in the 2024 Work-Programme. After that, several members of BEPA will be granted 5 minutes to pitch their project ideas or innovative solutions linked to a specific call for proposal, the best pitch will receive "The best pitch Award". Following the pitches, we will see a roundtable of networking for each 2024 topic, led by a group leader, which correspond to the 7 Horizon calls of 2024.
Check the list of the 2024 Batt4EU calls, here or find below the 7 topics you may choose from:
HORIZON-CL5-2024-D2-01-01 (Deadline 18 April 2024): Advanced sustainable and safe pre-processing technologies for End-of Life (EoL) battery recycling TRL5
HORIZON-CL5-2024-D2-01-02 (Deadline 18 April 2024):  Non-Li Sustainable Batteries with European Supply for stationary Storage TRL6-7
HORIZON-CL5-2024-D2-01-03 (Deadline 18 April 2024): Development of technical and business solutions to optimise the circularity, resilience, and sustainability of the European battery value chain TRL5
HORIZON-CL5-2024-D2-02-01(Deadline 7 September 2024):  Sustainable high-throughput production processes for stable lithium metal anodes for next generation batteries TRL 6-7
HORIZON-CL5-2024-D2-02-02(Deadline 7 September 2024): Post Li-ion technologies and relevant manufacturing techniques for mobility applications TRL 4
HORIZON-CL5-2024-D2-02-03 (Deadline 7 September 2024): Size & weight reduction of cell and packaging of batteries system, integrating lightweight and functional materials, innovative thermal management and safe and sustainable by design approach   TRL 6-7
HORIZON-CL5-2024-D2-02-05 (Deadline 7 September 2024):  HORIZON-CL5-2024-D2-01-05- Furthering the development of a materials acceleration platform for sustainable batteries (combining AI, big data, autonomous synthesis robotics, high throughput testing TRL 3-4
Please, find below some guidelines regarding the pitching slot: 
One speaker per organization (BEPA member) only;
A 5mn slot with 2-3 slides maximum (slides are optional). Please send these by Wednesday 8 November to me (mailto:v.petetti@bepassociation.eu);
The pitch preferably focuses on a project idea, the description of a technology or a new concept to be applied in the proposed project;
The pitch should be linked to a specific 2024 Batt4EU call.
The pitch will be given fully onsite (hybrid presentation will not be possible)
The best pitch will receive an award /gift from us!
To participate to the event and try to find your perfect match for a Horizon Europe battery call please register via this link: REGISTER TO THE EVENT (BEPA MEMBERS ONLY)
ARE YOU NOT A MEMBER OF BEPA? NO PROBLEM, REGISTER TO THE EVENT HERE 
FIND PARTNERS AND CREATE SYNERGIES ON OUR MATCH-MAKING PLATFORM!
This event will set the scene for future consortiums on battery projects.  Pitch your idea and find synergies for collaboration.

India Energy Storage Alliance (IESA) are commemorating World Energy Storage Day (WESD) on 22nd September 2023 and are organizing the 7th edition of World Energy Storage Day (WESD), a virtual Global Open Conference.
WESD is a global movement initiated by various apex trade bodies working to promote and adopt Energy Storage, E-Mobility & Green Hydrogen technologies for a sustainable future. This event is one of the largest open global events in this domain.
With a rising focus on the effective integration of renewable energy, the importance of electric vehicle and reliable, resilient energy supply, energy storage is becoming an increasingly important tool in the electricity ecosystem.
With Energy Storage rising to the forefront of industry developments, World Energy Storage Day is commemorated on 22nd September every year by various global industry stakeholders, policy makers, think tanks and associations to acknowledge its importance across the globe.