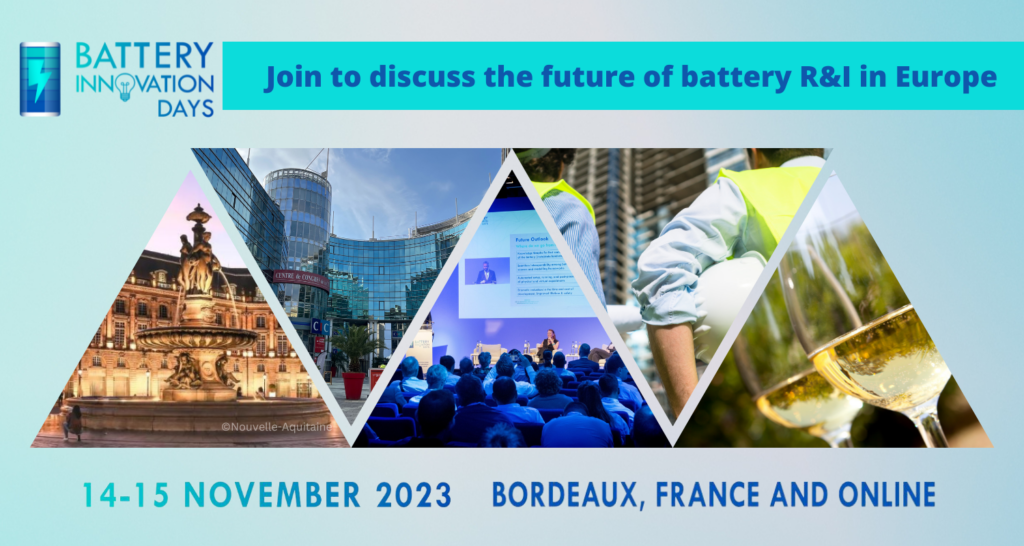 This year, thanks to our partners at the 
Nouvelle Aquitaine Region
, BID 2023 will be hosted in the beautiful city of Bordeaux, in France. Similar to previous editions, BID 2023 offers a seamless all-in-one experience; the third edition of the Battery Innovation Days is set to take place on 
14 & 15 November
 in Bordeaux
 at the Centre de congrès Cité Mondiale and online
.
What to expect
The Battery Innovation Days fosters dialogue among the research community, policy makers, industry players and end-users to push battery research and innovation in Europe.
Batteries are crucial to the enabling of technology that will allow the EU to achieve its zero-emissions goals through a responsible and sustainable market. BID's goal is to increase knowledge and encourage exchange around the deployment of cutting-edge technologies in battery materials, cell design, manufacturing and recycling.
Including discussions around the battery passport; digital twins for manufacturing; how to improve BMS architectures in the automotive industry; the deep revision currently underway to develop post li-on battery technologies, and much more in a two-day inclusive conference that looks at building a more responsible battery value chain together.
Why Attend 
Network and connect with Industry peers: Conversing with like-minded industry experts coming from different backgrounds and companies can provide a refreshingly different insight;
Stay on top of Trends and technologies: get a handle on the market, and bring awareness to your business by fully immersing in our two-day conference that will cover the hottest topics in the battery industry.
Attend the delivery of the Battery Young Research Award: honouring academic excellence in battery research, the award recognises the commitment of those students supporting scientific advancements in the field;
Enjoy a networking dinner and cocktail event with relevant stakeholders and exchange ideas with fellow industry influencers
Join an exclusive site visit in a pilot factory and R&D center to get to know the key regional players in one of the most flourishing EU battery ecosystems
Visit the exhibitor booths and extend your network in a prime place for business
And what could possibly replace the onsite experience, with a side of French cuisine and a glass of Bordeaux?!  
Registrations
Registrations are open, purchase your tickets HERE